EMF: Presentation of Third-Party-Funded Projects an Research Results (Marburg)
23.11.2023
9:00 Uhr
-
17:00 Uhr
Veranstaltungsformat:

Online-Veranstaltung

Veranstaltungsort:

Philipps-Universität Marburg, Online

Veranstalter:

Philipps-Universität Marburg/MARA

Kategorie:

Zielgruppen:

Promovierende
Postdoktorand:innen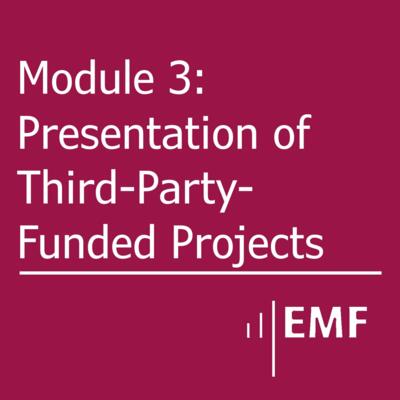 EMF Certificate program
Event language: English
Presenting one's own research projects or results in person and fielding critical questions that are asked by expert appraisers is frequently necessary in the course of the evaluation of applications for third-party funding or projects.
This workshop offers an opportunity for you to intensively prepare for presentations of project applications or research results in connection with evaluation procedures with the aid of video support and to practise your own argumentation skills.
You will get differentiated feedback that takes the entire bandwidth of aspects that are relevant for presentations into consideration (structuring, delivery technique, body language, use of media). Moreover, you will learn techniques and strategies that will enable you to respond to critical questions in an eminently competent and convincing manner.
Qualification Outcomes
You will know how to gear your lectures and presentations to various different situations in a systematic and goal-oriented fashion (trainer input).
You will be aware of the strengths of your presentation as well as concrete options for improving it (feedback, communication with peers).
You will be more assured when dealing with critical questions and will be familiar with discussion techniques that will enable you to take part in the discussion on an equal footing (trainer input, practice, peer feedback).
Methods
Trainer input, practice, feedback of trainer, peer feedback
Requirements
Two weeks before the workshop begins, you will receive a brief questionnaire about your expectations so that the workshop can be tailored to your needs as specifically as possible. Please prepare a short ten-minute presentation (project application or research results) and bring it with you on the day of the course.
To participate in the online event you need a PC/laptop with a current browser (recommended: Chrome or Firefox) as well as a headset (or speakers and microphone), a webcam plus a stable Internet connection.
Proficiency in English at the B2 level of competency is required.
You need to register once in our database to use MARA offers.
Weitere Informationen zu dieser Veranstaltung
Veranstaltungsort:
Philipps-Universität Marburg, Online
BigBlueButton


Veranstalter:
Philipps-Universität Marburg/MARA
Lecturer:
Dr. Margarete Hubrath
www.unisupport.de
Dr. Margarete Hubrath arbeitet mit einer wertschätzenden, ressourcen- und lösungsorientierten Haltung. Sie nutzt verschiedene Methoden aus dem systemischen Coaching und arbeitet mit Visualisierungen, Perspektivwechseln und unterschiedlichen Feedbackmethoden.
Buchen Sie hier Ihre Tickets